take a look at what our customers say
Great service, great product, locally roasted - what more can you ask for?
Russell Nock
Love this coffee, ordered the small pack and was so impressed went straight to 1kg bag. I tend to use in a french press or v60. Great, full on flavour and a definite favourite in our house.
Chris Woodhall
This coffee is so fantastic, I have tried a lot of different roasters, so many I can't count, overall this Sul De Minas is one of my handful of favourites, I keep coming back to it because it's so consistent. Its about as good as a cup of coffee gets. Really delicious espresso, makes a great base for a latte and stands on its own as cafetiere or filter, there aren't many roasts about like that. Real crowd pleaser.
Matt G
Love this coffee. It's locally roasted, really fresh and very high quality. I've tried a lot of independent roasters in lockdown and I keep returning to these guys. Very good!
Jo
Beautiful coffee Highly recommended!
Jo
Wonderful beans Faultless roast and service
Stephen Houseman
PAPUA NEW GUINEA - MILE HIGH
GORGEOUS! Absolutely amazing customer service from 47 Degrees every time. Super fast delivery and beautifully packaged (also free postage so that's a massive bonus!). I've tried a few different blends now and I have to say I think this is my favourite (all brilliant though!). Brilliant work.
Hannah
We have just gone through our first bag of Papua New Guinea coffee beans. A wonderful coffee experience, highly recommended for the lovely taste of caramel, burnt sugar & malt with light citrus. Thanks so much to Aidy for your guidance on grinding times for the different coffee appliances we have! Looking forward to trying the Brazilian beans.
Berni
PAPUA NEW GUINEA - MILE HIGH
THE BEST DECAF This is the best decaf I've tasted, better than some of my favourite caffinated beans, and is incredibly good value (especially the kilo bags). Still exploring the flavours with my espresso machine and looking forward to doing so with my filter and cold brew.
Simon Mcdonnnell
Amazing coffee with good cream and balanced taste!
Nikos
I was looking for a delicious and fresh coffee near Derby and this roaster is great! Coffee tastes amazing, prices are just right and delivery is fast. Completely happy with these people :)
Andrea
Fantastic Coffee, brilliant customer service, highly recommend. Well done Aidy, keep up the good work!
j b
Unsurpassed for the quality of their coffee & their customer service, if you love great coffee, Ady is the man 👍
Mark
Ordered online and received the delivery the next day - I was surprised and impressed! Great coffee and lovely friendly service.
EMMA
Fantastic service and fantastic coffee. Extremely knowledgeable. Definitely recommend for coffee beans/ground coffee.
JOHN
BEST EVER This coffee is the best I have ever tried, love it, love it, love it. I know taste is a personal thing, but honestly, give it a try, it is great. Thanks to Aidy for his feedback, always very professional and nice to know he appreciates his customers......brilliant customer service.......a very rare thing these days. Well done 47 Degrees Coffee, keep up the good work!
Jamie
AWARD WINNING TASTE FOR A GREAT PRICE. Since investing in a proper espresso machine I've tried a LOT of different coffees and this is by far the nicest Colombian I've had. Excellent taste with lovely balanced flavour. Ordering experience was better than some other roasters and the packaging looks great and is fully recyclable. Can't wait to try some of the other roasts but the Colombian will definitely be a constant for me :)
Louis
Great coffee however you brew. Really enjoyed this coffee and I've tasted allot of coffee recently. Nice caramel and nutty flavours. Has tasted great any brewing method I have used. – Brett on COLOMBIAN - SUPREMO
BRETT
Really love this blend and on the 3rd batch now. Reminds me of a nice Italian coffee, lots of flavour and strength but not OTT.
NIKKI
Astonishingly good coffee This is the best thing I've experienced since lockdown. Awesome. Put it through my new coffee machine and my world was good. Thanks!
Graham
Really nice selection of fab coffee's. I used the Columbian Supremo in my espresso machine and ground the smaller selection bags for my V60 filter. Excellent flavour and finish. Thoroughly enjoyed the variety from this set and a great introduction to 47 degrees!
RICHARD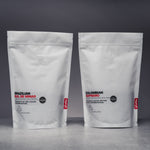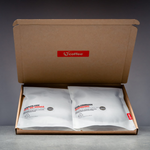 THE TWIN PACK. POST BOX FRIENDLY PACKAGING | OUTSTANDING VALUE. Only £16 (Inc delivery) Select which two bags of our freshly...
Learn more
WAKE TO THE TASTE
Established in 2016, to simply produce great tasting coffee, that's roasted with love.
From humble beginnings we can now proudly display a total of 17 Great Taste Awards across our core range of coffees.
We continue to hand roast every week, to ensure the coffee you drink is always at its peak of freshness.
WHY 47 DEGREES?
Did you know that most of the worlds coffee grows between the Tropic of Cancer (23.5° north of the equator) and the Tropic of Capricorn (23.5° south of the equator).  This 47 degree strip wraps around the globe and is known by coffee lovers as the bean belt. 
ADDRESS
UNIT 24 | BAILEY BROOK BUSINESS PARK | LANGLEY MILL | NOTTINGHAM | NG16 4BE
We love visitors at the roastery, so if you are interested in coffee and are passing, why not pop in for some coffee and a chat. 
It's always best to give us a call beforehand though, to make sure we are in.
Tel Aidy on - 07508701919.