Retro - Single Group Lever Operated Espresso Machine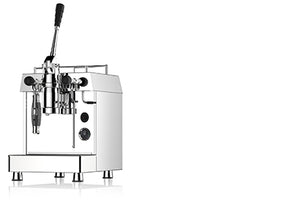 Product image 1

Product image 2

Priced at £1,850.00 (ex VAT) - £2,220.00 (inc VAT)
Retro, the latest innovation from award-winning Fracino, reflects the company's upbeat developments. A stylish 1 group lever espresso machine reminiscent of the swinging era of the 1950's coffee bar.
At 47 degrees, we can offer training and talk you through your options to help you get set-up with all the equipment you require to star serving great tasting coffee.
Information on the Retro Single Group Espresso Machine
Manufactured entirely in highly polished stainless steel and constructed using the finest quality components, this 'step back in time' machine is in tune with modern safety standards and is extremely user friendly. Available as electric or gas powered – for espresso on the move.
Key Features
Large capacity top quality copper boiler, heated by a multiple looped element, or by gas, or both.
Pressure controlled by a triple contact pressure switch.
Brass-bodied, smooth-action lever group with stainless steel shower plate.
Case, waste and cup tray are all made from stainless steel 304.
Automatic water level system with a probe, electronic control unit and solenoid valve.
Easy clean steam tubes.
Group Clearance 130mm.
Deluxe FCL1, FCL2 & FCL3 versions available - fitted with Real Wood handles.
RETRO LEVER SINGLE GROUP COFFEE MACHINE SPECFICATIONS

Groups

Single group

Cups per hour

100

Size (mm)

H = 830 x W = 375 x D = 500

Weight (kg)

35

Power

2.7kw/13A

Boiler size

7 Litres