JAMAICA - BLUE MOUNTAIN - WALLENFORD ESTATE G1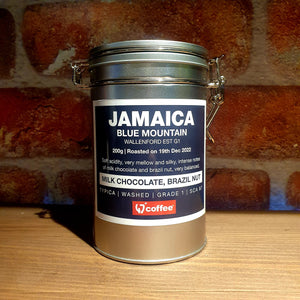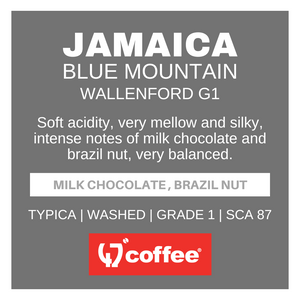 Product image 1

Product image 2

CHRISTMAS EXTRA SPECIAL
THIS COFFEE IS FOR PRE-ORDER AND WILL BE ROASTED ON THE
19TH DECEMBER AND POSTED OUT ON THE 20TH DECEMBER
I've been talking about roasting some of this stuff up for 3 years!
I am extremely excited to be able to offer you one of the rarest and most
sought-after coffees in the world. 
This will be an exclusive roast, of just 50 x 200g bags that will be available to buy on pre-order only from December 1st 2022.
I will be hand roasting the coffee for you on the Monday 19th December and posting all orders out via DPD NEXT DAY DELIVERY on the 20th, so your coffee should reach you within 2 days of being roasted and will be at its peak of freshness for you to enjoy over the festive period.
Wallenford Estate Blue Mountain Coffee
Country: Jamaica | Region: Blue Mountains | Altitude: +1.500m | Farm: Wallenford Estate | Variety: Typica | Processing: washed | Grade: 1 | SCA Score: 87
This coffee has a soft acidity, very mellow and silky, intense notes of milk chocolate and brazil nut, very balanced.
IMPORTANT INFORMATION
YOU CAN PICK YOUR COFFEE UP DIRECTLY FROM THE ROASTERY ON THE 2OTH DECEMBER OR HAVE IT DELIVERED.
THERE WILL BE A DELIVERY CHARGE OF £4 PER ORDER PAYABLE AT THE CHECKOUT.
GRIND TYPES:-
I WILL BE LISTING THIS COFFEE AS WHOLE BEAN ONLY! BUT WILL BE HAPPY TO GRIND YOUR COFFEE TO SUIT YOUR PREFERRED BREW METHOD, JUST LEAVE ME INSTRUCTIONS ON HOW YOU WOULD LIKE IT GROUND IN THE NOTES SECTION AT THE CHECKOUT.
IF YOU WOULD LIKE IT GROUND FOR ESPRESSO, I WILL TAKE NO RESPONSIBILITY FOR THE EXTRACTION TIMES PRODUCED FOR YOUR MACHINE. "NOT ALL ESPRESSO MACHINES ARE CREATED EQUAL!"
ABOUT ME.
Most of you will know me, but for those that don't let me make a small introduction.
My name is Aidy, and i'm the founder of 47 degrees. I've been roasting coffee for around 5 years and in that time have won 22 great taste stars across my range of coffees.
I carefully roast all my coffee by hand, roasted in small batches, monitoring every stage of its development. From the moment it enters the roaster till the time its ready to drop. The care and attention to detail I give to each roast, helps to ensure you get a great tasting coffee every time.
2022 Awards

3 Stars - Colombian Supremo 2022 | 1 Star - Brazilian Sul De Minas & Papua New Guinea Mile High 
2021 Awards 
2 Stars - Papua New Guinea Mile High | 1 Star - Brazilian Sul De Minas, Colombian Supremo & Ethiopian Sidamo Decaf 
2020 Awards
3 Stars - Colombian Supremo | 2 Stars - Ethiopian Yirgacheffe & Tobacco Road blend
2019 Awards
2 Stars - Papua New Guinea Mile High | 1 Star - American Diner Blend, Papua New Guinea Mile High & Mexican La Laja Decaf
Additional Information _ Jamaica Blue Mountain Coffee


Jamaica Blue Mountain is the rarest and most sought after coffee in the world. Coffee was first introduced into Jamaica from the island of Martinique in 1728. But it wasn't until the abolition of slavery on the British territory in 1838 when former slaves in the Blue Mountain began the cultivation of coffee.
Located at the eastern ends of the island of Jamaica runs a majestic range of hills known as the Blue Mountains. At elevations of up to 5,000 feet, here the terrain, the soil, the rainfall, and the thick Blue Mountain mist combine to create the perfect conditions for the cultivation of the World's famous, most distinguished and most delicious Jamaica Blue Mountain coffee.
Only coffee grown in this precise geographic region under exacting conditions will be certified "100% Blue Mountain Coffee". Arabica typica is the dominant variety with almost 90% of the planted area.
Our Jamaica Blue Mountain Wallenford Estate® is the most recognized, and most sought after Jamaica Blue Mountain® brand in the world. Jamaica High Mountain Supreme® coffee is produced using the same seedlings as Jamaica Blue Mountain®, that is, Arabica typica, however this coffee is grown in a different mountain range in the center to west of the island.