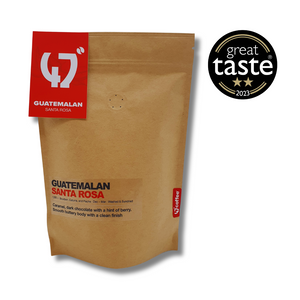 GUATEMALAN – SANTA ROSA
FREE POSTAGE ON ALL ORDERS
All those that have followed our journey from the very start will know, one of the very first coffees we roasted was from Guatemala. After being off our list of offerings for some time, it is now back in stock.
If you have never tried coffee from Guatemala, I would definitely recommend giving it ago. I've been drinking it at the roastery and it's bang on.  
Region: Santa Rosa, Fraijanes
Altitude: 1350 +
Variety: Bourbon, Caturra, and Pache
 Harvest: Dec – Mar
Process: Washed & Sundried
Expect -
Sweet, caramel, dark chocolate & berry notes. Delivering a smooth buttery body and a clean finish.
Additional information -
Guatemala produces many different types of the world's finest and most distinctive coffees. The country has many unique coffee producing regions that has gained a positive and well known reputation in the industry. Coffee is Guatemala's number one export contributing to the country's growing economic status.
This type comes from the rich volcanic soils of the Santa Rosa valleys located in the South Central region of Guatemala. The Central Highlands of the country are ideal for coffee cultivation due to high altitudes and rich soil from surrounding volcanoes. The climate allows the coffee to mature slowly, which is said to concentrate the coffee beans flavors. The coffee grown in the Santa Rosa region boasts a balanced cup with chocolate notes.
This type carries two quality classifications:
SHB (Strictly Hard Bean) specifies that the coffee was grown at an altitude above 1350 meters. This term is also synonymous with SHG/Strictly High Grown; this classification is higher than HB.
EP (European Preparation) specifies that the raw beans are all hand sorted to remove any defective beans and foreign material.