Fracino Contempo - Double Group Electronic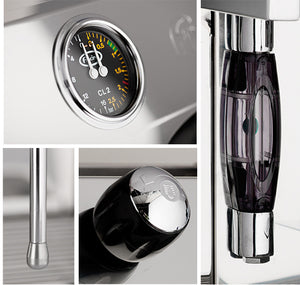 Product image 1

Product image 2

Priced at £2,475.00 (ex VAT) - £2,970.00 (inc VAT)
The standard Contempo model boasts a stainless-steel finish that shines like polished chrome. The design of the machine reflects a modern interpretation of style that makes for a stunning, yet timeless focal point in any café, bar or restaurant.
This great looking machine is the work horse of many coffee shops around the world and if looked after correctly should offer you years of loyal service. This is the next model up from the Bambino and comes with an additional steam wand, larger boiler and the option of either a 2.85kw/13A or 4kw/20A element to ensure a constant supply of great tasting coffee.
Key Features
Top quality copper boiler heated by multiple looped element.
Pressure controlled by a triple contact pressure switch.
Automatic water level system with a probe, electronic control unit and solenoid valve.
The pressure of water and steam is separately controlled by brass safety valves.
Standard clearance is 125mm and the high group (latte glass) option is 150mm.
Hot water and steam are released by rotating the valve handles on the solid brass valves.
Brass bodied group with stainless shower plate, solenoid valve and high-pressure pump.
Thermosyphonic circulation ensures the group is kept constantly hot for perfect coffee making.
Case, waste and cup tray are all made from stainless steel 304.
Espresso tray and cup shield as standard on all machines.
Easy clean steam tubes.
FRACINO CONTEMPO 2E COFFEE MACHINE SPECFICATIONS

Groups

2 group

Cups per hour

240/400

Size (mm)

H = 575 x W = 580 x D = 500

Weight (kg)

55

Power

2.85kw/13A or 4kw/20A

Boiler size

14 Litres