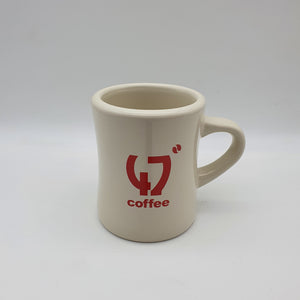 Product image 1
Product image 2
Product image 3

GREAT VALUE, SUPER COOL GIFT FOR ANY COFFEE LOVER!
ONLY £15 (Inc delivery)
Do you have what it takes to drink coffee from one of our super cool Diner mugs?
If the answer is yes, then you've probably already added one to your basket! 
These mug's have been designed to fit effortlessly into the hand of both the left and right handed coffee drinker! "So no more searching for the mug that fits perfectly in your hand." 
Our branded mugs are based on the classic 'Victor' mugs that were a popular feature in American Diners in the 50's and 60's.
The classic curved sides, thick walls and off-white colour of these mugs make them the perfect vessel to serve up your morning cup of coffee.
They are that good, you will never want to drink out of another mug again.
What do you get?
1  x American Diner mug.
But for £5 pound more, why not add 200g of our American Diner filter coffee.